On the morning of December 1st, a ceremony was held on Lin'gang Campus to sign the strategic cooperation protocol between our university and Shanghai Electric Power Design Institute Co., Ltd. (hereinafter SEPDIC). Among the attendees present there are He Hui, Party secretary and president of SEPDIC, Cai Guangzong, deputy Party secretary and general manager, Ye Jun, Member of the Party Committee of SEPDIC, chief engineer and deputy general manager, Li Mingfu, secretary of the Party Committee of SUEP, Li Hexing, president and deputy secretary of the Party Committee, and Vice President Fu Yang, as well as the concerned departments of both the company and the university, and deans of all the colleges. The ceremony was presided by President Li Hexing.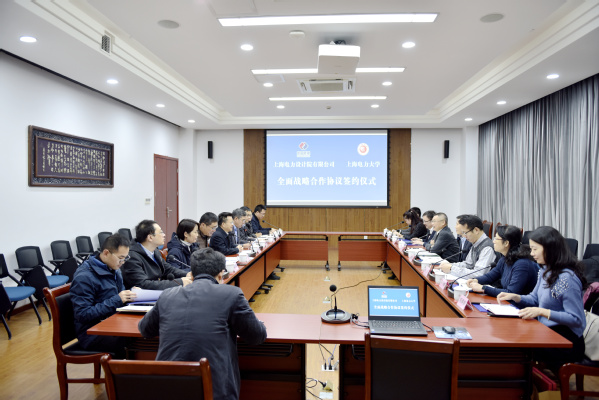 Li Mingfu extended a warm welcome to the visitors from SEPDIC and heartfelt gratitude to the company for their years of help and support to aid the development of our university. He reviewed the development we gained and achievements we achieved in recent years, saying that as SEPDIC is an excellent enterprise with the fames like innovator and pacesetter in China's clean energy and social service, we are eager to establish a long-term cooperative partnership with it and conduct effective and in-depth cooperation in co-construction of the Party and Youth League, talent training, business expansion and so on. He suggested that both parties conduct a strategic cooperation by providing their complementary advantages, sharing their resources, co-working to achieve win-win goals and seeking common development so that scientific and technological resources can be effectively docked on to technical needs, talent training be integrated with application and practice, and more remarkable achievements be achieved by promoting the integration of innovation, coordination and development. He expected that the both parties will continue to enhance their competence with more exploits in the new era to serve national strategies, development of the concerned industries and local economic demands, and make more and greater contributions to the realization of the Chinese Dream of the great rejuvenation of the Chinese nation.
He Hui made a brief introduction of the general business, transformational development, strategic blueprint and demands for talents in her company in recent years, saying that the signing of a strategic cooperation protocol in all respects marked another phase of starting a deeper and all-round cooperation in team building, scientific research projects, the establishment of a studio for graduates based on the previous long-term cooperation. He expected that with the signing of the strategic cooperation protocol, both parties will seize the opportunity to conduct more exchanges and strengthen cooperation in talent training, internship and employment, program research and development, and research projects. He believes that with the booming development of the energy industry, both SUEP and all those who are working in SEPDIC after graduation from SUEP will give staunch support to each other, start a new journey of cooperation and create a better future. Cai said that the educational philosophy and discipline setting of SUEP are very compatible with their company's demands for talents, expecting that both parties will conduct further exploration in the research and development of new energy and comprehensive smart energy projects and try to achieve more remarkable achievements.
On behalf of both parties Fu Yang and Ye Yongjian signed an agreement on strategic cooperation.
All those who were present conducted an in-depth communication on the recent development of the industry, cooperation in scientific research, talent training and so on. And then they visited the experimental studio for comprehensive energy development.
Contributor: Division of External Liaison