Recently, the first session of the 15th Committee of the Chinese People's Political Consultative Conference (CPPCC) of Shanghai and the first session of the Seventh Committee of CPPCC were held respectively in Yangpu District and Pudong New Area. Comrades Wu Liang and Li Hongzhong, as members of the 15th CPPCC of Yangpu District, and Li Xiaohua, as a member of the 7th CPPCC of Pudong New Area, attended the meetings.
Wu Liang is deputy director of the Department of Infrastructure Construction of SUEP and vice chairman of SUEP Committee of China Democratic League while Li Hongzhong is an associate professor from the College of Electrical Engineering and deputy chairman of Branch Jiusan Society on Yangpu Campus. Li Xiaohua is an associate professor of the College of Electrical Engineering and Chairman of Branch Jiusan Society on Pudong Campus. During the meeting, they listened attentively to the work report of the CPPCC and of the municipal government, and volunteered to express their opinions about the reports during group discussion.
Wu Liang's speech on the construction of green campus has aroused wide attention from the pedagogical community. His proposal was adopted, which reads Reinforcing 'Double-Carbon' Strategy-Building Yangpu Carbon Neutral Eco-Economy Circle. Li Hongzhong said that he will continue a profound research by cooperating with Dinghai Road and discuss how to make use of the radiation effect of the construction of Yangpu Riverside to ensure the high quality and efficient construction of our campus. Li Xiaohua's argued that all the universities in Lingang gather the thoughts to conduct a further study of carbon neutrality, which was highly concerned. Her proposal, namely Building a new area in Linggang as a carbon neutrality demonstration zone, was also adopted.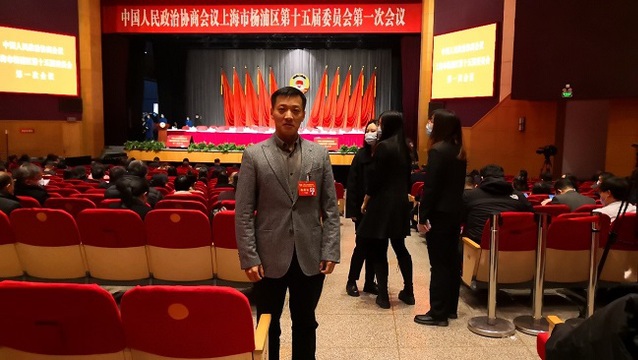 The three teachers from our university started their new terms as members of the district CPPCC. They said that on the premise that they have done their own jobs well, they will concentrate on the development of the industry of energy and electricity. Centering on the relevant work in their own districts' Party Committees and district governments, and the essential work and mattered missions of the university, they will present constructive advice and suggestions as much as they can and try to fulfill their duties and undertake new missions to make greater contributions in conformity to the requests of President Xi Jinping.
Contributor: United Frontline of SUEP Party Committee